The Telestack LF520 Hopper Feeder
The Telestack LF520 Will Increase Flexibility, Productivity And Efficiency,

Whilst Minimising Costs, Labour, Fuel And Emissions.
Reduce overall operating costs and eliminate double handling. Featuring a high throughput of up to 800 ton/hour as well as foldable sections for ease of transport. Interested? Contact us now!
Contact Us
Telestack Mobile Port Equipment
Introducing The Telestack LF520 Hopper Feeder
Telestack's Low Range Mobile Hopper Feeder allows the operator to discharge directly from wheel loaders, grabs and excavators onto barges and vessels at a significantly lower feed in height compared to standard Hopper Feeders. Demo model available – enquire now for more information!
Contact Us
Book a Demo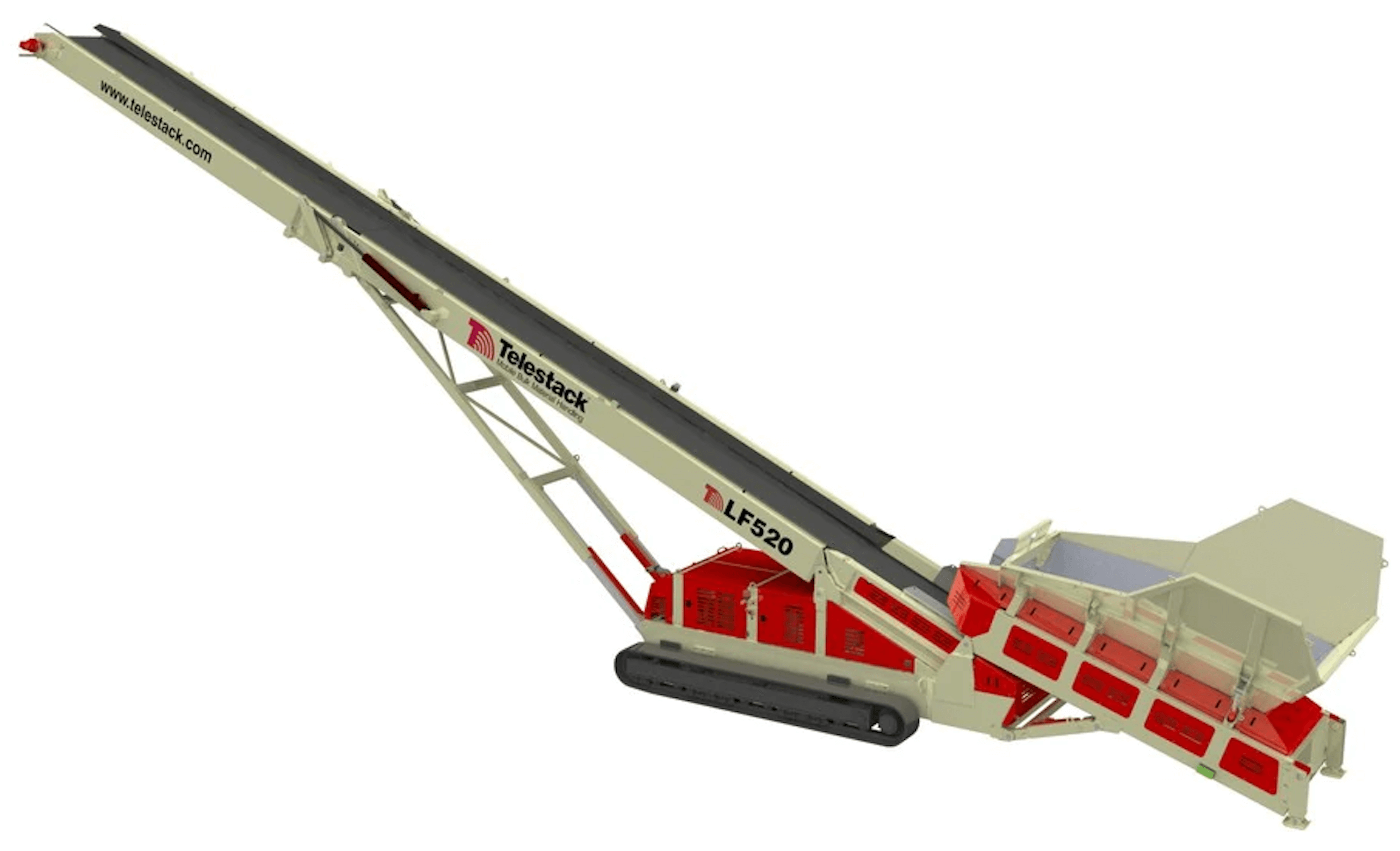 Increase Flexibility, Productivity And Efficiency
Boasting some amazing features that will save you time and money, the Telestack LF520 will shine in all port environments.
Reduce overall operating costs and eliminate double handling! The unique design of the Hopper allows for rear feeding, which is beneficial when operating in constrained areas, and is track mounted to provide excellent mobility.
High throughput of up to 800 tph (800 ton/hour)! The Telestack LF520 has a maximum lump feed size of up to 150mm (6") and a maximum distance between tracks and head drum for optimum discharge onto barge/vessel.
Safety first with the engine protection shutdown system! The natural design of the Hopper gives integral strength and stability in working position and desired discharge and feed in height can be obtained thanks to front and rear adjustable telescopic.
Enjoy ease of transport because of the Telestack LF520's folding head section! With a wide variety of options available to you and your business, the LF520 can also be used for ship unloading and stockyard management.
Quality Products And Services
Why Choose Cooper Handling?
Cooper Handling offers an extensive range of Telestack Mobile Dry Bulk Handling Equipment and Mobile Port Solutions. Ensure unrivalled flexibility when barge loading or unloading in the port or stacking in the stockyard or warehouse…
Experience a truly bespoke solution! Our Telestack mobile port solutions can be custom designed to suit your operational needs and reduce and eradicate double handling of material to maintain product integrity!
Designed to suit your operational loading, unloading and stacking needs, Telestack equipment increases flexibility, productivity and efficiency, whilst minimising costs, labour, fuel and emissions without compromising production rates!
Find the flexibility that can't be achieved by a fixed infrastructure system! Mobile technology ensures port operators can use the equipment in one area of the multipurpose port and move to another very easily and quickly.
Mobile technology also means lower capital investment with fewer planning and civil requirements. We stock a range of Telestack solutions to load everything from barges right up to handymax/baby capsize vessels.
Interested? Request More

Information Or A Demo Now!
If you would like more information on our Telestack LF520 Low Hopper Feeder, or if you are interested in booking a demo with our very own demo model, fill in our enquiry form or use the contact details below.
01926 658 900
info@cooperhandling.com
If you're interested in what other products and services we can offer, please visit our full website by clicking here.